After the earthquake, Marie Sofonie fled the camp where she found refuge for fear of being raped. She now works on the Ayiti SMS SOS project to fight violence against women and other forms of human rights abuses in Haiti.
In Haiti, gender-based violence was common already before the 12 January. The earthquake has made things worse: lack of security in the thousands of tent camps scattered in the capital city, and an increased incidence of abuse crimes. We recently documented some touching stories in our Solidar'IT report "Women: the box of grief". We could say that Ayiti SMS SOS too has a box of grief that contains SMS messages instead of anonymous, handwritten letters, but the two methods stem from the same wish to fight gender-based violence, human trafficking and other crimes against the most vulnerable.
Sofonie is 25 years old and well determined to break the silence about these abuses. She fled the camp where she was relocated after his house was damaged for fear of being raped, and she was also ousted from her own district as men didn't like her social activism and participation in the distribution of aid. We had the privilege to meet Sofie in Port-au-Prince, listen to her story of courage and determination, and better understand the reasons behind her involvement in Ayiti SMS SOS.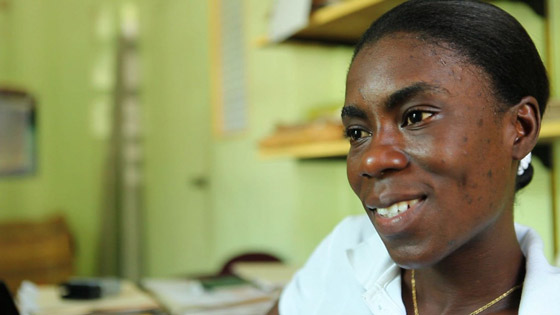 Marie Sofonie – Her personal story and Ayiti SMS SOS
Ayiti SMS SOS allows victims or witnesses of abuses to send an SMS to a free number (3803 0303). Messages are then mapped geographically and classified based on the type of crime or help request, location and so on. A few hours before, Sofonie had received an SMS through the platform from a 19-year-old girl in a camp who was assaulted and raped as she was going to the toilet.
This case would have probably gone unreported without Ayiti SMS SOS, as victims are often afraid, or sensitive about speaking out, or they do not have any channel to voice what happened. Instead, through the platform the message can be responded to. Sofonie explained that she has been talking to victims to reassure them. Even just having the possibility to talk to somebody about the violence is very beneficial for the victim. The most critical cases are also referred to the police or other NGO, which can intervene on the terrain. This allows different reports to be produced, and the tracking of each individual abuse case.
Speaking out is key to stop these types of violence, often hidden inside the four walls where a family lives. Or inside a camp. The "Tree of Violence" is a fascinating representation of the problem, easily understood by everybody. In the audio that follows, Aashika Damodar, founder of Survivors Connect, the organisation that created the program, describes why the tree grows, and why it must be cut right at its roots.
Aashika – What is the Tree of Violence?
One of the crimes recorded by Ayiti SMS SOS is the plague of restavek ("stay with" in Creole): restaveks are children sold as servants, which in fact become invisible to the society, losing all rights and often abused by their new "owner". A recent shocking report by Dan Harris for ABC News well illustrates this modern-day form of slavery.
In this interview, Aashika explains how these human rights crimes can be fought in Haiti, through awareness campaigns, training, and the use of crowdsourcing and SMS platforms.
Aashika describes Ayiti SMS SOS
This organisation collaborates with local partners in various countries to bring to the surface and fight gender-based violence, human trafficking and other often "invisible" crimes. In fact, what Survivors Connect does is simply initiate the programme and provide the necessary training to local organizations, which then can carry on and manage the project in total autonomy. In Haiti, Survivors Connect work with la
Fondation Espoir
, FNJD, and several women's organizations like Kofaviv, Favilek, Konamavid and others which talk to the communities, especially to the displaced in the tent camps of Port-au-Prince.
Ayiti SMS SOS is based on the Ushahidi crowdsourcing platform and the Frontline SMS functionality. Crowdsourcing means sourcing information "through the crowds", that is through spontaneous messages that can arrive through several channels, for example phone calls, SMS, or via internet. More importantly, Ushahidi provides this mapping functionality that is so important in situations of emergency, or as in the case of Ayiti SMS SOS, information that needs to be tracked precisely. Ushahidi is an open-source platform, so available to everybody, and it can be readapted to cater for virtually any case where crowdsourcing is important.
As Survivors Connect did, for a new long-term mission that we hope will create much needed relief to the women of Haiti.