Last Friday, journalist Orpha Dessources went to the Police Station of Cité Soleil to find information about the arrest of Jean Bony, a local gang leader. Within minutes, Orpha was assaulted by some policemen and after receiving verbal abuse ("we do not answer questions by little journalists"), she was pushed, grabbed by her neck, hit on her back, her mobile phone was smashed and her necklace broken…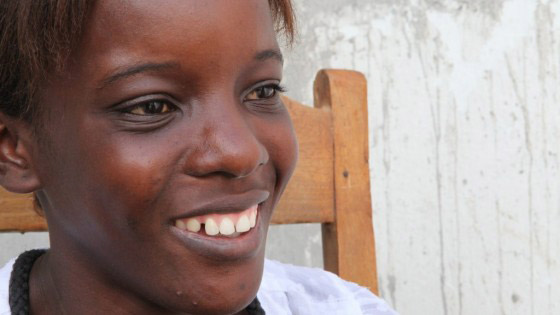 Solidar'IT recently completed a video report precisely on Radio Boukman, the community radio of Cité Soleil: Hurricane warnings… from Cité Soleil.
On Friday 10 September, we received a call from the programme director, Jean Lesly Hilaire, to inform us that one of his reporters had been assaulted by policemen right in the middle of the central police station of Cité Soleil! We met the Radio Boukman team again in Cité Soleil, still under shock for this new event. Jean Lesly explained that he was not so surprised: he had advised the journalist to switch on her audio recorder before entering the police building. He had even said "you never know what can happen"…
Orpha Dessources, journalist at Radio Boukman, was given the task to go to the police station to find information. It seemed that a man, Jean Bony, one of the leaders of "Race Cabrit" gang, had just been arrested following the assassination of another gang leader named Boujoly. Around midday the journalist left the Cité Soleil radio and some ten minutes later she reached the central police station of Cité Soleil. What happened next, a clear breach of the laws that protect the freedom of the press, can be heard directly through Orpha's voice here (English version available soon):
What happened at the police station
Jean Lesly explained to us that it has never occurred to a journalist to be assaulted by a gang member, but on the other hand, this was the third time it happened by the hands of policemen! For this reason, they have decided to formally sue the policeman, Alex Dominique, to avoid the same to happen again in the future (English version available soon):
Jean Lesly Hilaire – Radio Boukman complains formally…
Orpha received remarkable support from her Haitian colleagues. One of them said: "ok, now you are a true Haitian journalist, you had your baptism of fire!". Being a journalist in Haiti is not an easy job, especially for those like Orpha who are straightforward and righteous. The entire Radio Boukman's team is getting organized to fight this aggression and produced a special programme on this story so as to make it public. They will go back to the police station today (Monday) to file an official complaint.
One important surprise is that, as per Jean Lesly's advice, Orpha did switch on her voicerecorder before the assault. We propose here an extract in Creole, which contains death threats, insults of all kinds, and explicit violence. This extract has been broadcasted several times over this weekend on Radio Boukman:
Orpha's aggression at Cité Soleil's police station
———————————————
We wanted to provide this testimony to support Orpha. The event had strong emotional impact on her. We met her several times in our time in Haiti, and she had impressed us for her commitment, professionalism and courage… as all these are necessary for a young 30-year-old woman to set off all alone to investigate events in Cité Soleil. We wish her prompt recovery from this story soon and to continue her work with the same spirit and zeal.