Cité Soleil ("Sun City") is a district of Port-au-Prince known for its violence and insecurity. Simply mentioning its name causes quivers and uneasiness in the population of the other districts of the Haitian capital. But right in the middle of Cité Soleil, a small community radio provides a life-saving service in the hurricane season: Radio Boukman. We found out how.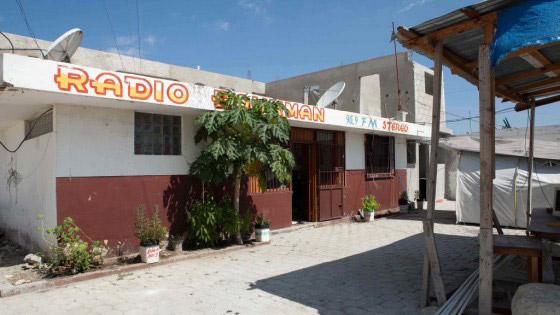 Radio Boukman's young team aims to show a different angle of Cité Soleil. "There are positive initiatives too" says Lesly, programme director, "and we are the evidence of that". Radio Boukman is the voice of the voiceless and it considers its duty to inform the population, largely deprived of any means, about how to face their daily problems. With this mission in mind, the radio just launched a new programme, called "prevention is better than cure". The programme provides warnings and advice on how to avoid the disastrous effects that a hurricane could have, if it hit the tent camps of Haiti. This is now regarded as the most serious risk in Haiti at present, but very little action has been taken so far to warn the population.
The radio programme achieves its goal through a mix of different elements. First, an update of the most immediate hurricane threats is given. This is followed by a vox pop to check people's level of awareness on this matter (knowledge of the different alert codes e.g. green, orange, and red alerts). Finally, a comedy sketch reinstates the safety instructions. Once more, this shows that in Haiti information must be simple and direct for it to be effective.
It comes as a shock to learn that Radio Boukman are still looking for funding for this vital programme, particularly necessary in the context of troubled Cité Soleil, which houses between 200,000 and 400,000 people. No international organization has come in aid, with the exception of IOM (International Office for Migration) who are now running a pilot programme to promote it in some camps. Over one million people are at risk today. Radio Boukman is trying to avoid more deaths than those caused by the earthquake.
In this video, we meet Radio Boukman's exceptional team to learn about the profound sense of belonging to Cité Soleil's community :
Joachin Jorel, the director of Radio Boukman, explained to us the origin of the radio's name. Boukman was a well-known voodoo priest who instigated the slaves' rebellion. In the night of 14 August, 1791, Dutty Boukman celebrated a voodoo ceremony. A black pig was sacrificed. Everybody drank its blood, which supposedly made them invulnerable. Boukman then ordered the general uprising, and although he died in battle, the slaves went on to build the first black republic of the world.