The earthquake of 12 January forced hundreds of thousands of people to share make-shift shelters in public squares, parks and virtually any vacant land here in Port-au-Prince. This situation causes additional problems of insecurity and violence, especially against those who are most vulnerable and unable to defend themselves. One Haitian woman is using craft, communication and common sense to alleviate the tension and give a voice to their shared pain.
Everywhere in Port-au-Prince, small makeshift shelters are packed one against the other. Most of these camps have forced people that did not know each other to live a harsh life together. Seven months after the earthquake these shelters and way of existence have become routine, complete with temporary markets and street life. But a multitude of problems are hiding behind it and this is what Madame Lamercie's GBV programme is endeavouring to vocalise.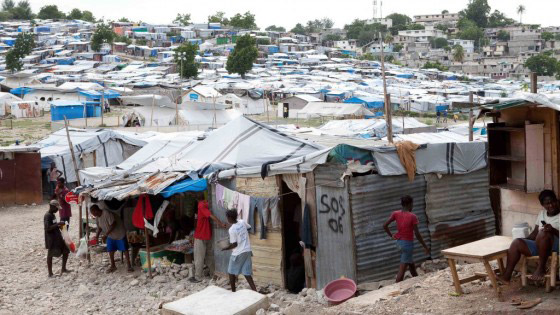 Near the entrance of Camp Acra in Delmas 30, a wooden readymade shelter welcomes women every day to the GBV's workshops in sewing, cosmetics and painting. Launched by Madame Lamercie and aided by a small team, they use these workshops to encourage women to share their experiences and problems. She explained to us that many women in the camps are in unsafe situations and several of them have been subject to violence and abuse. Her objective is to find solution, one by one, to resolve some of the problems.
The workshops are designed to encourage communication, yet several women find it hard to express their feelings openly so a box sits in the middle of the room. Mme Lamercie encourages women to write and submit their experiences anonymously so they can be addressed.
Every Friday at 11am, she opens the "box of grief" and reads out all messages to the group. The atmosphere gets rather tense, and face expressions reveal the concealed anguish. Small weeps and moans are heard during the reading of these terrible stories. In the audio portfolio that follows, everybody can listen to the stories and share in this hard but necessary moment of revelation.
This movie requires Flash Player 9
As it often happens in Haiti, all activities end in music and cheerfulness. And just like a therapy, once these women have found the strength to speak out and listen to each other's stories, joy and laughs burst out more vigorously than ever.